As we bid farewell to another decade , Hospitality businesses should be set up to take their business and visitor to another level of customer expectations . Here are some of the top trends that we expect to see as service businesses in 2020 and beyond.
1. The Next Generation
Gen Y (Millennial's) can be a demanding group of people. They are used to quickly and conveniently getting things without having to wait in line to do so. They love and embrace technology, mobile devices, social media, apps and all things techie. The hospitality industry will have to adapt as well for them to stay relevant in today's tech savvy market. A simple check-in and check-out process should be handles by technology while still humanising the experience.
Additionally, they will want to embrace using mobile devices as a means of communication with millennial guests' needs—Requesting services like , need more towels, clean the room etc. Hotels will also need to offer special perks like affordable wifi or nfc ordering and even electronic door access .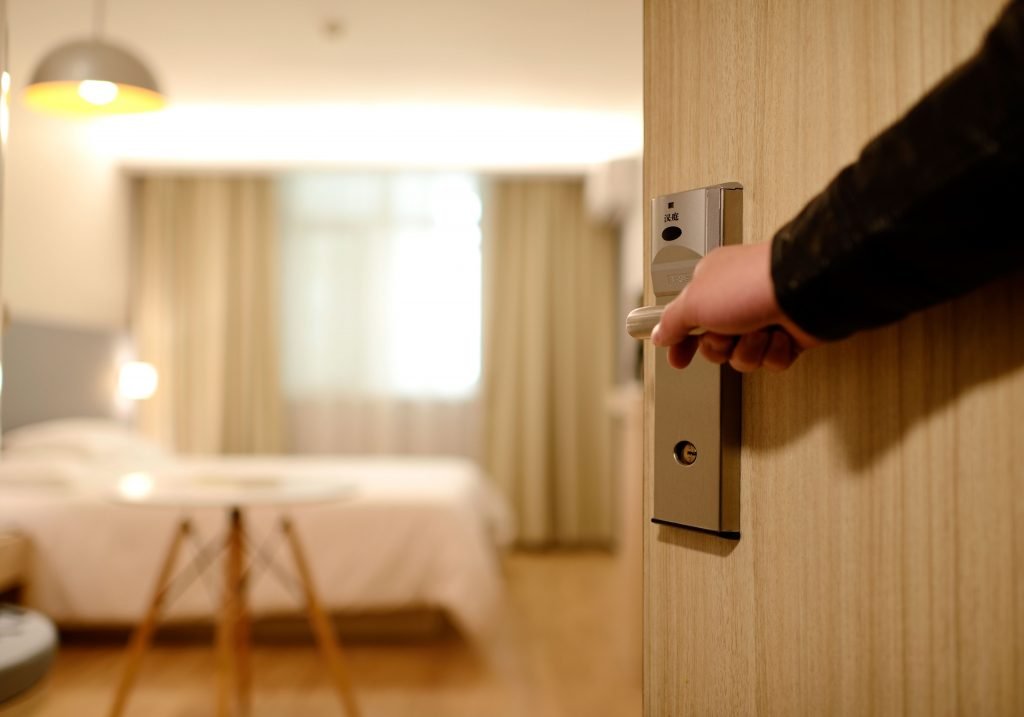 2. Artificial Intelligence
AI (Artificial Intelligence) is another emerging technology hotels will want to incorporate into their guests' experiences. Look into adding a personal assistant devices like Alexa or Google Assistant in each guest room. This will either introduce your guest to technology or make them feel right at home.
The technology could be linked to the room and request can be made directly to you. Request an Uber, buy tickets to events, or order room service from the room will definitely improve the customer service levels.
3. Green Sustainability
Everyone is now getting onboard being more environmentally conscious , these will be a big trend in 2020 and beyond for hospitality businesses, including hotels, motels and bnb. Adding solar panels to ,on-demand water heaters , room lights motion sensor detection are just some of the upgrades hotels will start to incorporate into their properties. They should also continue to use energy-efficient lighting and water-conserving fixtures. You can also be proud to announce that you are greener and responsible.
4. Technology
Hotels have to embrace new and emerging technologies. IoT (Internet of Things) is one technology we will start to see being used more in hotels and the hospitality industry. Allowing guests to connect to in-room refrigerators and stock them with food and beverages to using mobile devices as room keys and pool and spa passes, IoT will be a game-changer for the early adopters.
Both VR (virtual reality) and facial recognition has already started to become more common in hotels. Some of the larger hotels have budgeted are already using VR as a way to interact with guests. For instance, they can immerse a guest in a VR experience where they can tour the property, see guests rooms, and onsite amenities.
Facial recognition is being used in different ways for different guest experiences. One way hotels can use it is, after a guest registers and checks in, they will be able to use their mobile device to scan their face and send it to an IoT device that will unlock their guest room door. Instead of needing a key, they can just walk up to the door and press a button to have their face scanned, and the door will unlock.  This can give you a WOW factor till it become more common.
5. Increased Use of Social Media
Consistency, Creativity, and Content plays an important part of your social media presence . Expect hotels to take things to the next level like providing real-time offers for guests staying on a property. Hotels will also use their social media channels to announce new technologies being added to their properties and using guests' images and feedback for continued self-promotion. Stay ahead or fall behind in social media, The results speak for themselves.
6. Real-Time Guest Responses
Millennials, just like Gen Xers and Baby Boomers, tend to be brand-loyal when it comes to hotels. To help ensure loyalty from all guests, hotels will move to a real-time guest response when there is an issue or another problem, by communicating through their app, social media, or text messaging.
To ensure your hotel guests are happy and loyal, you should be thinking about updating your property for 2020 and beyond.
To find wholesale hotel supplies and hospitality supplies for your hotel, restaurant, or other hospitality business, please feel free to browse and buy your Hospitality supplies online from our store, or contact National Hospitality Supply at 0419401269 for further assistance.